Okay working ladies, if there's one thing we must do as women, it's help each other out. This list cannot be found on Pinterest, it is curated with YOU in mind, from your clumsy moments at lunch, to your weather induced un-laid edges, we are coming to your rescue. Below are 15 items you MUST have at your workplace, we promise you, you will thank us later!
1. (Travel-sized) toothbrush + toothpaste 
Not gum. Not breath mints. Not up for debate.
2. (Mini) nail polish remover
Because YES, your manager IS quietly judging your chipped manicure.
3. Assorted teas
Better for you and more affordable than a daily frap habit.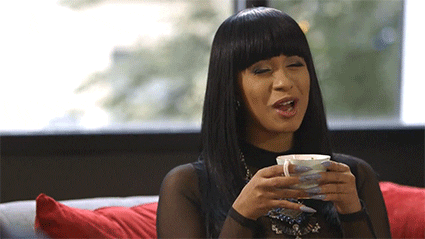 4. And a cute mug to drink them in
"Black Girl Magic @ Work" mug: $16 Blavity
5. A goes-with-everything cardigan
You knew better than to wear a neon push-up under that "semi"-sheer top.
Or you can basically werk "The Regina".
6. Edge control* (+ brush)
Self explanatory. Scoop into one side of a spare contact lens case** and thank me later.
*Pro tip: can also be used to groom brows in a hurry.
**Add some concealer to the other side while you're at it!
7. Work flats
Yes, it rains, and yes, it snows– but that does NOT give you a free pass to wear Uggs and Hunter boots around the office!
Spare yourself the side eye.
8. EMPTY ZIPLOCK CONTAINERS
For when a lunch meeting sandwich platter presents itself.
You know what to do.
9. All-occasion booties/pumps
Forgotten presentation? Impromptu happy hour? Pair with the coverup from #5 and go!
10. Tide to Go
Hot sauce* stains happen when they're least convenient. Always.
*Also: keep hot sauce on-hand for blah lunches.
11. A multihead charger.
Oh, you only do Apple? An Android user will thank you.
12. Tampons
Not due for a few weeks? A coworker will thank you.
13. Ibuprofen
Not prone to aches + pains? You know where this is going. Be someone's shero!
14. Work-appropriate scent samples from Sephora.
They're travel-sized and perfect for a midday freshen-up!
Keywords being work-appropriate
15. And of course: TRAVEL-BOTTLED COCONUT OIL
For when your ends look crazy, your nail polish is dull, that papercut hurts, you forgot your lip balm, you could use a little highlight, and you just really (really) need to collect your life!
There you have it– 15 keys to help make it to Friday! See something missing? Share your workplace must-haves in the comments below!