It's the end of February 2016 and another Black History Month is coming to a close, but that doesn't mean highlighting #BlackExcellence has to end. You've probably participated in walks and marches, revisited historical monuments, ate great food and shared your heritage with others all month long. The good news is, it doesn't have to end. You have all the right to continue the celebration and bask in blackness even after February is over. During Black History Month we take a look back at some of our favorite nostaglic documentaries, television shows and movies that remind us of just how powerful black culture has been for years. The material in these films range from somber to inspiring but they are sure to evoke an "I'm Black and I'm Proud" feeling during any month of the year.
For instance, let's throw it back to the '80's when School Daze and Do The Right Thing woke up the film industry and the black community. Spike Lee didn't hold back when he challenged viewers to acknowledge taboo issues within the black community such as black Greek life, racism, colorism, black neighborhoods, discrimination, and so on. These movies are now considered timeless, and are still being screened across college campus,' community organizations, and homes to continue the conversations that Spike Lee started over two decades ago.
Dear White People is the perfect depiction of the "woke" modern black collegiate. Yes, it's a very funny movie, but still gives the lessons for viewers to understand the wrong and the terribly wrong when it comes to discrimination against black people. Millennials can relate to this movie the most because of it's setting at an Ivy League college from the perspective of young black college students. The film reveals what the college fairs won't show you, i.e. having to deal with ignorant students wearing blackface, racial profiling, black homosexualism, anti- interacial relationships and various realistic experiences being the 3% on campus. It personifies crises like the one we saw at the University of Oklahoma and Mizzou last year.
If ever for a second you're in need of a reminder that you indeed are a magical black girl, movies such as Waiting to Exhale and The Help are sure to refresh your memory. Coupled with a glass of wine, both films will provide just enough inspiration to take on anything or anyone who challenges you. The strength, respect and dignity of the black woman is illustrated throughout both of these movies from contrary perspectives. "You is kind, You is smart, You is important," but really though!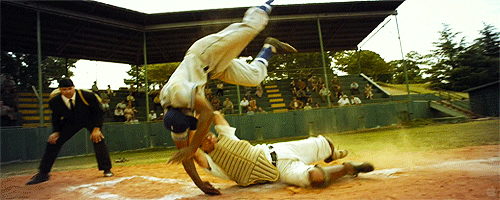 For sports fans and athletes, 42, the documentary of Jackie Robinson, is a great movie to motivate you while in pursuit of your dreams all year long. Chadwick Boseman does a phenomonal job portraying Robinson and telling his legendary story of being the first African American to play in Major League Baseball. There's an endless list of African American leaders that have kicked down barriers and paved the way for us. These role models serve as a constant reminder that regardless of what the odds are, anything is possible. 
Last but certainly not least, the movie that won the theaters as soon as it was released, Straight Outta Compton. Celebrating the life of Hip Hop's most brutally honest group, NWA, and how they changed music forever. From the rap scene to racial profiling in Southern Los Angeles, this movie tells it all. The racial climate depicted in this film mimics what it's like living in America in 2015. Even though this movie was just released, it has made an impact and will be added to the list of great black films that will be watched for decades to come.
So as your Black History Month wraps up, don't forget to give yourself some time to put on these movies, enjoy the messages and continue to spread #BlackExcellence everywhere.