Who remembers MTV's Spring Break? We all couldn't wait to get to college and travel the world with a group of close friends at some of the most popular destinations. After a long first semester, it's only right. Work hard, play harder! It's a time to catch our breath, close our books and take a much needed break for a week full of fun. As spring break approaches, many people have already made their plans and know exactly where they're going. You've probably already watched Spring-breakers to mentally prepare yourself for the fun. If you're a little behind with your planning, here are a few hotspots that are sure to be all the way turnt up this spring break!
Inception at Sea– If you've never been or a cruise or to the Bahamas, Inception at Sea is the spring break for you. Cruise around the Bahamas with world-renowned music artist, 2000+ partiers and lots of young professionals. From Miami to the Bahamas, party it up on one of the most amazing, all-inclusive party experiences in the world. Visit http://inceptioncruise.com/ for more information!
Panama City Beach– One of the spring-breaker favorites. Snorkeling, Water Parks, Parties and Museums, PCB has many different activities to participate in. There are many different resorts and hotels with great price packages. For more information visit http://pcbeachspringbreak.com/
Daytona Beach– With several hot spots Daytona has something for everyone, including Beach Front Bars, Dance Clubs, Sports Bars and even a Comedy Club. The best part about it is that you and your girls can do all of this at reasonable prices and cover charges that won't break the bank.
Las Vegas– This vacay would probably be best for those of us that are 21 and older, but none the less, Vegas is a great hotspot for spring break. Enjoy hotels and resorts with tons of live entertainment and parties. Try your hand at a few casinos or soak up the sun at the pool.
Myrtle Beach– Myrtle Beach has long been regarded as one of the top destinations on the east coast for college students to relax, party and let loose. Whether you want to chill and catch the breeze or let loose and party, Myrtle Beach has something for you.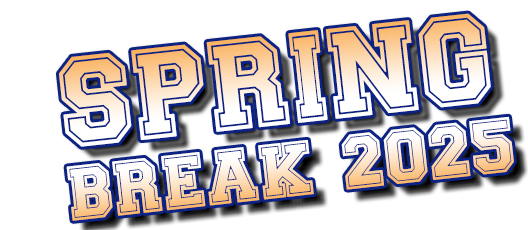 And if you're looking for something a little more laid back, try visiting a spa or taking a yoga class. Maybe just sit on the beach and clear your mind. Use your spring break as a cool down instead of a turn up.
Regardless of where you decide to visit this spring break, make sure to enjoy it! You deserve a breather!